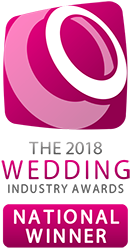 Meet the Bridal Shop Team
The Dressing Rooms is a bridal shop that loves for all our brides to feel completely comfortable on their first visit, for them to be able to enjoy their experience, relax and have fun, while hopefully finding the wedding dress of their dreams. We know it can be a little daunting sometimes and have found that the best way for you to feel confident is for you to know a little more about us before you even step foot in the door. All of our lovely bridal consultants have written a personal profile for you to get to know them a little better, and we also have a brides guide available to give you an idea of what to expect at your appointments.
Rebecca
Hi there, I'm Rebecca the Owner of The Dressing Rooms. As a fully Qualified Florist (C & G III) and a HND in Business & Finance I am well equipped to be, not only the leader of this amazing business, but also the creative director of it too. I love helping women to look and feel the very best they can, daring to step outside of the box but feeling safe and secure whilst doing that.  I am relentlessly passionate in ensuring that the journey each bride has with us is fun, honest and above all personal to them. We're all different shapes and sizes so to get each bride who comes here to feel truly great about themselves is not only a challenge but my quest.
I am responsible for every single dress we stock, I am responsible for every single order placed, I am responsible for every single bride. I couldn't do any of it without the hard work and full support of my amazing Team of ladies, every single one of them chosen, not because of some fabulous sales technique, but simply because they are kind, honest, caring ladies who love what they do.
"The beauty of a Woman is not in the clothes she wears, the figure she carries, or the way she combs her hair.  The beauty of a Woman must be seen from in her eyes, because that is the doorway to her heart, the place where love resides"
Audrey Hepburn
Sarah
I've been at The Dressing Rooms from the very start back in 2006, I have to say that it feels like yesterday when I first started here.
At the Dressing Rooms we are a family and we work amazingly as a team. All of our customer can see this as we spend so much of our time here its so good that we all get along with each other and consider each other special friends.
We are all very lucky to have an amazing boss Rebecca who makes our jobs even more enjoyable and she is another reason why we all love our jobs!! As I've been here the longest I am now more office based so don't get to serve as many brides as I used to but it's always nice to have a catch up when brides call or enquire on anything.
My job is very rewarding as It`s my responsibility to make sure all gown`s are ordered on time, correctly and that they arrive in good time for fittings. It can sometimes can be very stressful because there is so much responsibility but I honestly wouldn't have it any other way. My aim is to give the bride the most stress free enjoyable journey with us and so making the perfect wedding day! xxxx
Della
I have been in the bridal world for the last 15 years having started my own business 'Belle Bomboniere' wedding favours for brides. It quickly progressed from favours to stationery as well. I first met Bec when she chose us to do favours for her wedding and we have been friends ever since. I had a concession in the House of Fraser in Birmingham but found that bridal shops were more passionate about our services and 'The Dressing Rooms' was perfect for promoting Belle Bombiniere. Bec asked if I was interested in a Saturday job just to help her out. That was 3 years ago! I now work full time! I've found a job I love with a team that are more like a family.
The rewards are endless, the satisfaction of seeing the look on a brides face when she realises she has found her dress is amazing. It can be sometimes challenging too, trying to get the information needed to help a bride find that perfect dress. I like to listen and reassure that I really want to understand what a bride is looking for. I have always liked to make people happy as in return this makes me happy that's just how I am! I enjoy being part of the brides journey on the run up to her big day and helping her find her beautiful dress but at the end of the day it has to be the brides decision, after all it is one of the biggest days of her life.
Gail
I have been a part of The Dressing Rooms team for 6 years now. Each day brings new challenges, ideas and memories. As each day brings new brides, each bride has a different need, which as a bridal consultant is challenging, demanding and very rewarding. The thrill that comes when a bride chooses her dress is fantastic, it makes the job I do so very worthwhile and so very rewarding.
We all work as a team here at The Dressing Rooms which enables each and every one of us to give our brides the best advice, service, help, guidance and of course the best possible choice of dresses. I myself, like to treat my brides as if they were my own daughters and make their day very special. Xx
Jackie
My name is Jackie, I am a single mum of 2 grown up children and also a very proud Nan.
I came to join the team at TDR 2 years ago, having always worked in retail, this was my 2nd job but it soon become my only job, because I wanted concentrate on becoming the best I could be purely because it soon became apparent I had found a job I enjoyed, and had a passion for.  With the help and guidance of all the ladies here my confidence returned and I can now call myself a Bridal Consultant and I am a full time part of the team.
We are a team and that is why we all work so well together, you have to have a passion for this and we all have that!!
The best part of my job is when I see a very nervous bride to be, lose her nerves and enjoy her appointment with me and, more importantly, finds the dress that she has been looking for.  It can get very emotional but it's such a wonderful feeling knowing I'm helping this wonderful bride on her very special journey to the most important day of her life… I love it!!
Julie
As the newest member of staff at The Dressing Rooms I have fallen in love with my job all over again, helping a bride to be, choose the perfect dress is the nicest experience and The Dressing Rooms is the nicest place to do it.
Working as a close team our aim is to ensure our brides have a wonderful experience from choosing her dress right to her collection day. All brides deserve to be beautiful on their special day and a happy bride is a beautiful bride!! XX
Boo
I became part of The Dressing Rooms almost a year ago now, and I have loved every single minute. My role is to ensure that the brides have the best experience they possibly can while visiting us, whether that's making them a cup of tea, answering any questions they may have or simply reassuring a bride she looks beautiful. There is nothing more satisfying than seeing a bride 'say yes to the dress'… It really is a magical moment and there is no better feeling than knowing i have been a small part of that experience.
The business itself is incredible, it is something to be very proud of and this is thanks to our lovely boss and hardworking team. The Dressing Room's team are the loveliest bunch of ladies who all thrive off the success of the business and each and every one of us are dedicated to ensuring our brides have the most enjoyable, exciting and rewarding experience Xxx
Natalie
Natalie Having worked in the Bridal and beauty industry for over 15 years, Natalie has a real eye for detail and loves to style TDR Brides! She loves to create something unique with her brides, adding that extra touch just to make every brides dress totally unique and special to them.
Her fab fun personality, along with her great sense of humour gives her brides confidence and security to trust her judgement, whilst having lots of laughs and special times along the way, simply adorable lady!